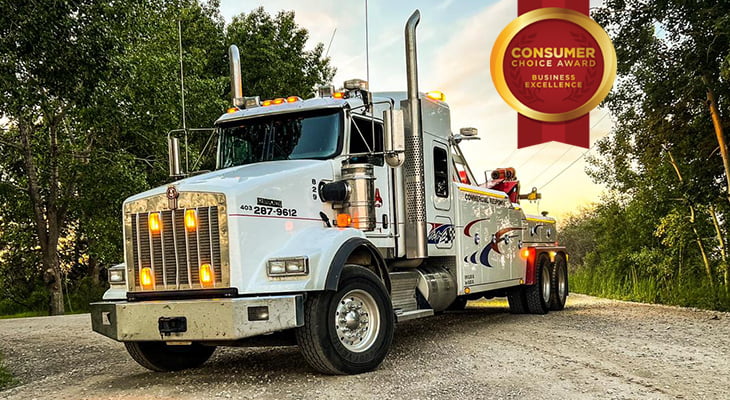 Success can only be achieved through hard work and dedication. After a long-term commitment to providing exemplary services, AAA Towing is proud to announce that our efforts have been duly recognized. We have been awarded the prestigious Consumer Choice Award for Towing in Southern Alberta, a testament to our hard work, dedication, and determination.
With so many towing industries operating in Alberta, one might wonder what sets AAA Towing apart. Being a reliable towing service is not an easy job. But our expert team has an unwavering commitment to excellence and customer satisfaction.
Since the early 1980s, we have been working as a trusted provider of light-duty towing and recovery services to the general public in Calgary, Alberta. Throughout these years, we have expanded our services and become pioneers in offering heavy-duty towing and transportation services for commercial equipment and machinery.
Over time, we have established ourselves as the only trustworthy choice for towing services in the region. Our commitment to providing high-quality towing services is backed by the right equipment. We have a fleet of over 40 vehicles, including 1-ton wreckers, flatbeds, trailers, and heavy-duty wreckers that are highly adaptable.
This award is proof of our excellent service. As the name suggests, recipients of this award are not selected by judges but by consumers. Thus it rightly recognizes the efforts of our professional team in the towing industry and customer trust in us.
Consumer Choice Awards: A Brief Overview
Appreciation for any business is important. Recognition by consumers, however, is even more valuable. The Consumer Choice Awards rewards businesses that have consistently delivered excellent service and products over time. Since 1987, these awards have acknowledged exceptional business performance in small and medium-sized enterprises.
This award gives businesses an opportunity to demonstrate their commitment to customer satisfaction while also giving customers a chance to say thank you for all their hard work. Often award contests are biased, with a panel of judges deciding things as per their choice. Contrarily, the Consumer Choice Awards measures the customer's confidence in the business. This accolade symbolizes excellence that sets a company apart in a crowded marketplace.
AAA Towing – The Road To Success
If you're stuck at a roadside in Southern Alberta, the first name that should come to mind is AAA Towing. Our 24-hour roadside assistance services are available in Calgary, Chestermere, Airdrie, Cochrane, Okotoks, High River, Black Diamond, and nearby areas.
Our top-rated towing services include:
Flat-deck Towing
Heavy Duty Towing
Tractor Hauling
Fuel Delivery
Winching Services
Accident towing
Equipment Hauling
Exotic Vehicle Transport
Recovery Services
Load Transfer
Cleaning up after an accident
And many more
We have a team of professionals with years of experience in the field. Our clients trust us for quick and immediate responses. With our well-coordinated system, we're dedicated to providing exceptional services 24/7. Our top-notch services are the reason why consumers prefer us over other towing services.
Expressing Gratitude: A Special Message From AAA Towing
First of all, a special thanks to Consumer Choice Awards for recognizing our efforts in the towing industry. This award is a source of motivation for the entire team, and we are humbled by this recognition. We thank all our customers for choosing us as their reliable towing service provider. We're proud that the excellent standards of our services have been recognized among many other top-notch competitors in the industry.
Our commitment to customer satisfaction and excellence will continue to guide us in our endeavours. This is not just a win for us but for all our customers who have always appreciated and trusted AAA Towing services.
Final Words
AAA Towing is the premier provider of towing and roadside assistance services in Southern Alberta. We are honoured to be the recipients of the Consumer Choice Award. We have proudly earned the trust and loyalty of our customers with our commitment to quality, expertise, and customer service excellence.
Earning accolades like Consumer Choice Awards is a testament to our success. This acknowledgement is not only a validation but also a reminder of the responsibility we owe to our customers and community. We pledge to maintain high standards and deliver excellent service in the future as well. Let us be your go-to for all of your towing needs.
About Us
AAA Towing is a well-established towing service provider located in Calgary, Alberta. With our wealth of experience, we have built a strong reputation in the industry. Our expertise lies in providing a wide array of professional services, including battery boosting, fuel delivery, lockout assistance, and more.
To explore our complete range of services in detail, visit our website. If you need towing assistance, contact us.
Fast & Reliable Towing
We make sure each customer is completely satisfied before we leave the job.
YOU'RE IN SAFE HANDS