Experienced And Skilled Tractor Towing Services Provider In Calgary, Alberta


24/7 Tractor-Trailer Towing Services For Hire Throughout Calgary, Alberta
Is your tractor suffering from technical issues? Or are you trying to move your farm or lawn tractor from one locality to another? In either case, AAA towing is here to help. We have a team of experienced and skilled workers to provide you with reliable tractor towing services across Calgary, Alberta.
Our team of qualified and experienced tow truck drivers know the importance of following every rule and regulation for oversized and overweight freight throughout Alberta.
We provide tractor towing services in Calgary, Chestermere, Airdrie, Cochrane, Okotoks, High River, Black Diamond, & Surrounding Areas. Our heavy-duty tow truck fleet can tow farm tractors, lawn tractors as well as other types of tractors.
Our fleet of heavy-duty tow trucks also can provide accident towing services and emergency roadside assistance. We understand the importance of providing timely services, hence, we make sure to get back on the road as quickly as possible in case of a technical problem or an accident.
Whether you are looking for lawn tractor towing, farm tractor towing or tractor-trailer towing, AAA towing can help you. Contact us today for more information.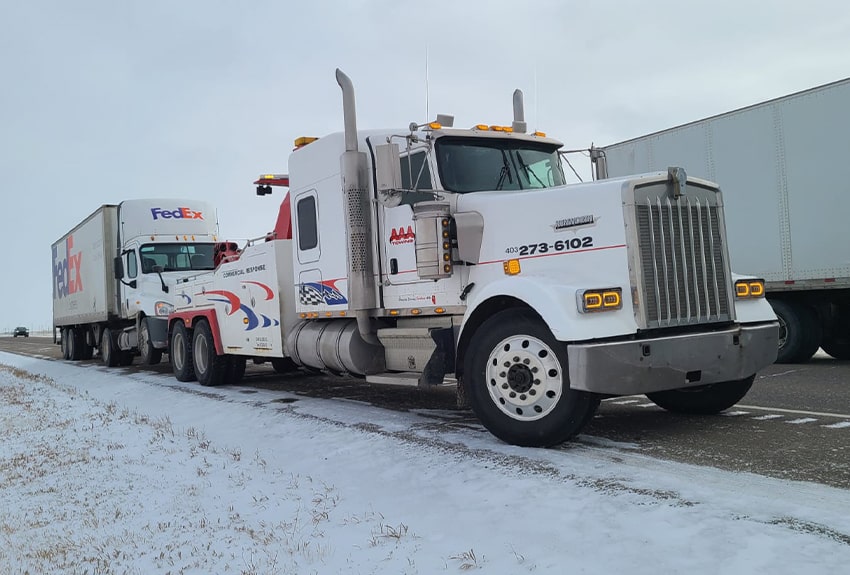 Why Choose Our Professional Towing Service?
24/7 heavy-duty towing facility in Calgary, Alberta
Instant response to heavy-duty towing needs
Certified, affordable, insured heavy-duty towing services
Highly experienced and qualified heavy-duty tow truck drivers
Polite, friendly, and well-trained staff for efficient long-distance hauling
Fast & Reliable Towing
We make sure each customer is completely satisfied before we leave the job.
YOU'RE IN SAFE HANDS