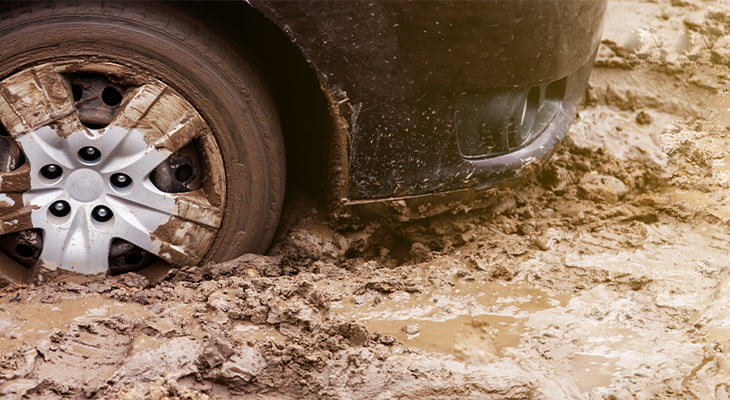 If you are traveling on a muddy path, you never know when you will hit a deep pothole and your car will get stuck. Nevertheless, you should know that this is when the real test of your patience and the durability of your car will take place.
Luckily there are some certified towing companies that would be glad to help you and your car out of such situations with their professional recovery services. But still, you should prepare yourself beforehand. Here are some tips that might help you during such unpredictable car situations.
Acknowledge The Situation
When driving in muddy areas, you should never be nervous or stressed and try to speed your way out. When you speed up you decrease the friction between your tires and muddy surfaces. Be active and get out of the vehicle to check the status around your car, and then come up with a plan on how to get out of the mud. If you have passengers in your automobile, everyone should get out to decrease the quantity of weight and stop the car from slipping deeper into the mud.
When you're out of the car, try to determine how extreme the situation is. Evaluate how deeply buried your wheels are in the ground and if it is just one or all wheels. This will help you evaluate the intensity of the complication and will help to determine the method of action.
Rapid Tire Movement
You can also try squirming the car by turning the wheels left to right for a few moments to clear out a small area. Then take hold of a shovel, obviously if you have one, and clear as much mud as you can around your tires. Doing this will decrease the angle of the incline the car needs to climb to get out of the hole. Having a straight opening around the tires will hopefully authorize you to gain some momentum and get a way out.
If you don't have a shovel, you can try any other thing or use your hands and ladle the mud away. Whatever you use, be cautious not to dig down and construct a deeper hole. This will make it more difficult for the car to move out. And if it still doesn't work, try contacting a professional 24/7 towing company.
Utilize Random Objects
Yes, random objects from your car can help you gain momentum or even free your vehicle from the mud. For example, you can use your car's footing mats and position them somewhat under and in front of your drive wheels which can help you get your car out of the mud. You will presumably have a jack, so use it to raise the tires slightly, enough to slide a footing mat under and in front of the wheels.
In the circumstance of rear-wheel-drive vehicles, the floormat should be positioned under the rear passenger side wheel, while in the possibility of front-wheel-drive cars, it should be placed under the front driver's side wheel. Of course, this can differ depending on your condition.
Other entities can be helpful as well. If you don't have footing mats, you can use your jacket, blanket, or pants or find something in the surrounding region, such as sticks, leaves, stones, pebbles, cardboard, etc. Place these things in front of your wheels, and use them to help you get out of the mud, then try to slowly and gradually accelerate forward.
Read Also: How You Should Not Tow Your Vehicle
Use The Right Amount Of Weight
Another way to get your automobile out of the mud is to distribute the weight by setting up the extra weight on the drive wheels. The concept is to push down the tires to boost gripping and, conceivably, traction so that you can bring your car out of the tight spot.
With rear-wheel-drive cars, place any hefty object you can locate in the back seat or the trunk, with front-wheel-drive vehicles, position any heavy thing on the passenger seat or footwell.
Many owners will try to go with a shortcut and try to sit on their hood or tell others to do so, which is ridiculous. Do not put excess weight on the car's hood, and never let people sit on the hood in an attempt to add weight to the vehicle, as this can be hazardous.
Get Roadside Assistance
After trying all these tips and tricks, if your car is still in a terrible situation and you are losing hope, get yourself some help. Contact the experts for roadside assistance, and get your car out of the mud.
You don't have to wait for a miracle to happen or have to waste your time figuring things out. If none of the above works, do your car a favour and call a professional tow recovery service provider. Before the situation gets worse, it's better to step up and save your passengers all the drama.
About AAA Towing
AAA Towing provides 24/7 expert roadside assistance & towing services to all clients in Calgary, Chestermere, Airdrie, Cochrane, Okotoks, High River, Black Diamond & surrounding areas. Our versatile fleet has over 40 vehicles, ranging from 1-ton wreckers, flatbeds, trailers, and heavy-duty wreckers. Contact us for more details.
Fast & Reliable Towing
We make sure each customer is completely satisfied before we leave the job.
YOU'RE IN SAFE HANDS