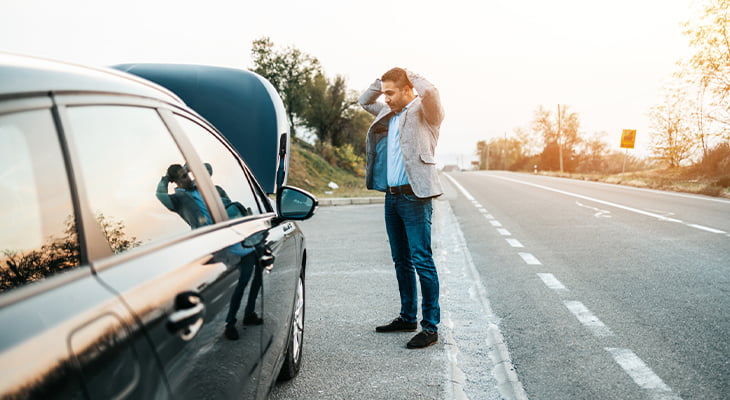 Vehicle breakdowns are stressful yet unavoidable, no one wants their car to break down in the middle of the road. But when something like this happens it gives rise to stress and anxiety. Vehicles are machines that can malfunction and break down. Accidents happen all the time on the road. Sometimes you are at fault and sometimes the other person is but it damages your car.
Breaking down and unforeseen accidents are not in your control but it is in your hand to stay calm and take control of the situation. Stranded on the road with a broken or accidented car causes a lot of stress and tension. Thousands of thoughts cross your mind while you wait for the towing company and that builds up stress and anxiety. During this whole process it's not easy to keep your nerves calm. However, in this blog post we will talk about some of the ways you can ease your stress while waiting for the towing company.
Give Precise Directions
When your car breaks down, the first thing you need to do is give clear directions to your towing company. Most people are bad at giving directions. In order to give crystal clear directions you need to remain calm. If you are stressed out then giving your exact location will become a difficult task. So, first calm yourself down. This will make the process of giving directions easier. The clearer the directions are the faster the towing company will be able to reach you.
Give Accurate Car Details
Once you have explained where you are accurately the next thing you need to do is to explain the whole situation clearly. When you are able to explain to your towing company clearly what has happened, they are able to come prepared with the right tools and equipment to fix the problem. Once you have explained your car's details and given them your location you will be able to relax.
Stay In Your Car
In situations like these the thing that causes the most stress is to find a safe place for yourself. Your car is the best place for you to be safe, so stay in your vehicle until help reaches your destination. However if your car is leaking gas or there is smoke coming out of the car then it's best to stay away from your vehicle.
Distract Yourself
In situations like these you have to make quick decisions which require you to remain calm. Hence, it is best to keep calm by distracting yourself. Find distractions which will help you calm down. If you are on the road, start reading the road signs or counting the cars that pass by, any distraction that will help you ease your anxiety. These distractions will help you divert your mind from your car problem and bring down your stress level.
Call Your Friends
While you are stuck on the road, what better way to pass your time and bring your anxiety down than call a friend or relative. Call your friends and relatives and tell them about your situation. This will help you deal with your anxiety, and keep you distracted until the towing service reaches you.
Play Games
The situation can become much worse if you are stuck with your children. It's very hard to keep them busy in times like these. To keep them entertained and busy, you can play games with them. If you are alone you can play games on your phone to pass the time.
About AAA Towing
AAA Towing is a professional and reliable towing company. We provide fast and reliable towing services to vehicles like cars, SUVs, RVs, pick-up trucks, and others. We provide our clients with 24/7 roadside assistance. contact us today, for more information.
Fast & Reliable Towing
We make sure each customer is completely satisfied before we leave the job.
YOU'RE IN SAFE HANDS